SB-22A/PT Portable 12 Line Field Telephone Switchboard
The SB-22A/PT is a portable field telephone switchboard which provides facilities for interconnecting up to 12 voice frequency circuits.
These units are widely used by the army to interconnect local battery circuits, remote controlled radio circuits and voice frequency teletypewriter circuits. These units are housed in a durable Lexan plastic case and are supplied with an Accessory Kit containing three line packs and spare lamps.
The H-182/PT Operators headset is included. Two units can be stacked to provide more circuits.
New Unused.
Specifications
Crouse-Hinds ETWM-20 Hazardous Location Telephone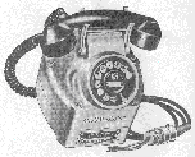 The ETWM-20 is a Common battery wall mounted telephone for use in areas which may be hazardous due to the presences of flammable gasses , vapors or combustible dust. Note: This model does not have a dial.
New Unused $199.50

top